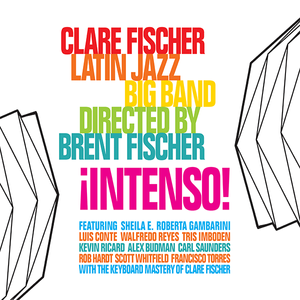 ¡Intenso! Reviews
"Like Gil Evans or much of New Testament Basie, one comes to Clare Fischer's ensembles for the arrangements, not the solos. Specifically, Fischer is about the harmonies; close listening leads to awe. With ¡Intenso! , Fischer's son and protégé Brent reveals that he'd thought of even more than we knew when the elder Fischer died in 2012. Brent uses recordings of his father's final years to put the maestro's keyboards into new performances of his unheard charts (along with some of Brent's own), with formidable-at times sublime-results.

The sublimity comes in the form of "Renacimiento," a Fischer tune that begins with flutes crosshatching two electric pianos (Fischer and Quinn Johnson), slowly incorporates lush layers of modernist-classical dissonance and then transitions into a 6/8 waltz with harmonic tension in both horns and reeds. Then there's Osvaldo Farrés' slow tango "Tres Palabras" (one of Fischer's favorites), engaging reeds and keys in brow-wrinkling but lovely interactions; and an extraordinary Afro-Cuban rendition of Ellington's "Rockin' in Rhythm" in which clavinet, delicate marimba, trombones and muted trumpets all meet in a four-way intersection that rests atop cushy saxophone backgrounds and subtly fluctuating electric bass.

The lesser moments are also of high quality. "The Butterfly Samba" features a vocal duet/delight between Scott Whitfield and Roberta Gambarini, buoyed by billowing flutes, and the already-fraught counterpoint of horns and reeds on "Solar Patrol" is supercharged by Sheila E. guesting on timbales.

There are good solos to be found on ¡Intenso! Ron Stout's trumpeting and Rob Hardt's work on both flute and tenor sax on "The Butterfly Samba" are admirable, and trombonist Francisco Torres does real justice to "Play Time," the last song Fischer ever recorded. But Fischer's writing, in death as in life, remains the star."
-- Michael J West Jazztimes
Pacific Jazz Reviews
"Most numbers are either straight-on swingers or lustrous ballads, with two notable detours for the blues—Clare's even-tempered "Blues Parisien" and Brent's "Sad About Nothing Blues," the last charmingly sung and scatted by trombonist Scott Whitfield and trumpeter Carl Saunders to a clever lyric by Darlene Koldenhoven. Besides "Sad About Nothing Blues," Brent Fischer wrote the sophisticated "New Thing" and funky "Son of a Dad" and arranged "All Out", "Jumping Jacks" and Lennon / McCartney's "Eleanor Rigby" (the last two with his dad). Brent and Keith Horn orchestrated Clare's off-kilter arrangement of Ray Noble's "Cherokee." 
-- JACK BOWERS All About Jazz
"Brent Fischer, son of the legendary composer-arranger-bandleader Clare Fischer (1928–2012), carries on his father's work of composing and orchestrating big band charts that please the eardrums and stimulate the brainwaves. Pacific Jazz is a multi-generational affair, featuring writing and playing from both Fischers as well as previously unheard repertoire that spans seven decades. Brent Fischer not only directs his late father's big band performing his father's material—he also contributes tunes and arrangements of his own, not to mention playing bass, mallet instruments and auxiliary keyboard parts. Clare Fischer, who was able to hear and participate in much of the music on this album prior to his passing, contributes keyboard and piano parts to three tracks, including an introspective solo performance of Gershwin's "I Loves You, Porgy." Frequently calling for unconventional instrumentation, the arrangements on Pacific Jazz are deceptively sophisticated, executed with style and skill by an ace ensemble that includes saxophonists Bob Sheppard and Alex Budman, trumpeters Carl Saunders and Ron Stout, and trombonists Scott Whitfield and Andy Martin, among many others. The presence of bass saxophone, contrabass saxophone, bass clarinet, contrabass clarinet and contrabass trombone is felt as much as heard on various tracks, inhabiting a world of low end where most traditional big bands dare not tread. On the high end, the orchestra is filled out with clarinet, flute, oboe, piccolo, soprano saxophone and sopranino saxophone parts, contributing timbres and textures usually reserved for chamber music. Clare and Brent Fischer's thoughtful and playful arrangements are quite advanced, full of motifs that move through the music like modular mini-themes. The music here is interpreted with a high level of dynamic sensitivity and played with tremendous precision, resulting in a powerful collection that's bound to appeal to fans of modern orchestrated Jazz, or anyone who holds an appreciation for Clare Fischer's enduring legacy."
-- Ed Enright Downbeat